For some, the holiday season is a happy time filled with feasting and indulgence. Others might not be so lucky. The cost of food is rising across the country, and our community is feeling the effect. At this moment, hunger and food insecurity prevent thousands of Central Minnesotans from a good quality of life.
Hunger means more than missing a meal. It means having to make the devastating decision between paying rent or buying groceries. With Minnesota anticipating a record number of visits to food shelves this year, there has never been a better time to support food security in your community. Keep reading to discover how.
FOOD INSECURITY
Food insecurity is defined as a lack of access to adequate and healthy food. And it's far too common across the country. In Minnesota alone, 338,000 people are facing hunger — 121,140 are children.
Anything, ranging from an overdue medical bill to a job loss, can cause food insecurity for a family without a safety net. (Just read this ALICE blog to see for yourself).
FOOD ACCESS SUCCESS STORIES
At United Way of Central Minnesota, we believe that healthy families mean healthy communities. From mobile food pantries to health education, UWCM is dedicated to finding creative solutions that close the gap. Here are some examples of how we make an impact.
CATHOLIC CHARITIES SENIOR DINING MEALS ON WHEELS
Bob, an 84-year-old man from St. Cloud, volunteers regularly at the Catholic Charities Food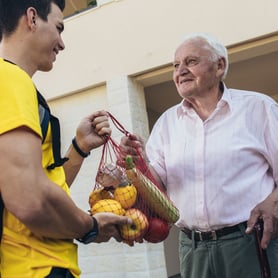 Shelf. Bob recently lost his wife of 62 years and had not been eating much — he was visibly losing weight that he could not afford to lose. After being encouraged to fill out a form to receive food from the Food Shelf, Bob was able to bring 20 frozen meals home to his apartment.
A month later, Bob called the Food Shelf to share that his wife normally did the cooking and that he had no desire to eat after her death. "I really didn't want to cook, nor did I know how to," he said. Bob continued to say that his weight is holding steady since he can enjoy a balanced meal every day. He also added that the meat and cabbage dish tasted just like his wife used to make it.
Since then, Bob has brought in other friends from his apartment complex to pick up some meals from the Food Shelf. One of the friends told a Food Shelf employee that he had "died and gone to heaven" after receiving the senior dining meals.
SALVATION ARMY FOOD SHELF
A family that regularly visits the Salvation Army Food Shelf, who previously lived in the shelter, was excited to spend their first Thanksgiving in their new home. The husband has a disability, and the wife previously lost hours at work due to car troubles. On top of it all, the couple provides primary childcare for their young grandchildren while their daughter is at work. With these obstacles, the family had no food or money to purchase a turkey for Thanksgiving.
The Salvation Army Food Shelf provided the couple with a food box filled with turkey and other traditional Thanksgiving menu items. The wife was so happy when she opened the box that she was almost in tears.
RAISE YOUR HAND FOR FOOD SECURITY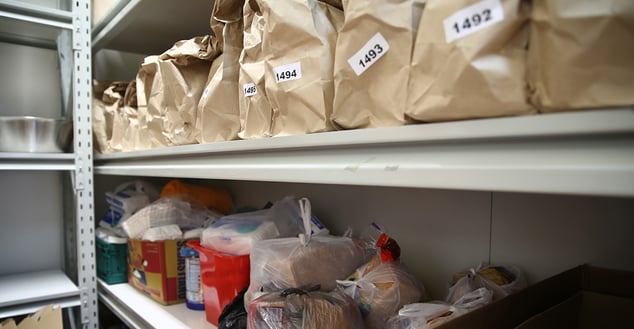 Although we have come far in the support for food access, there is still work to be done. We're proud to partner with local community agencies to support nearly 70 programs that improve the health, education, or financial stability of every person in our community.
With 1 in every 11 children in Minnesota facing hunger this holiday season, there has never been a better time to explore our volunteer opportunities and support food security in Central Minnesota.