Libraries provide far more to a community than books to read. Though it's easy to take local libraries for granted, they often provide valuable after-school and weekend programs for youth. Even more importantly, they offer young children from diverse socioeconomic backgrounds a better opportunity to learn valuable language and literacy skills, so they'll be better prepared for school.
Studies have shown that the first three years of life are critical for language skills, and these skills are best learned through social interactions – for example, parents taking the time to read books to children instead of simply passing them an iPad. Once those critical early years are over, if these interactions didn't happen, the brain cells that would have been developed actually start to fade away.
Reading to children early and often supports language development, improves their concentration skills, and helps prepare them for academic success. However, it can be difficult for many parents to find the time to regularly visit a public library in person and pick out books for their child. And unfortunately, if a child isn't read to early and often, they're already behind most of their peers before they even start school, and far more likely to eventually drop out.
Public Libraries Aren't Always Accessible
Public libraries greatly expand accessibility to books and other resources, especially for young children. However, even public libraries aren't accessible to every family. Many parents these days struggle to find enough time in their day to complete basic tasks, like making homemade meals, going to work, doing laundry, and shopping for groceries and other household supplies. Adding a weekly, or even monthly trip to the library may be easy for some families to accommodate, but for many households, especially those without some means of transportation, it's a significant challenge.
Additionally, while libraries throughout the country do loan most items in their collection entirely free of charge, many require an initial fee to get a library card, and will also charge late fees to borrowers. For lower-income families who also tend to be short on time, these fees put yet another barrier ahead of early language development for many children. Many libraries are beginning to eliminate late fees to improve accessibility, but until this practice becomes widespread, many lower-income families will choose to stay away from libraries in order to avoid being charged additional fees.
The Imagination Library
Dolly Parton's Imagination Library is a book-gifting program that mails free, high-quality books to children from birth to age five, regardless of family income. United Way of Central Minnesota is committed to helping children achieve their potential and has therefore partnered with the Dollywood Foundation to bring the Imagination Library to families throughout the area.
The Imagination Library was specifically designed to reduce the physical and financial barriers between children and books during a critical stage in a child's language development. Unlike public libraries, this special library doesn't require any additional trips. Instead, the library will mail a new, age-appropriate book to each child every month until their 5th birthday. The program is completely free and has no initial start-up fees. This library also doesn't charge late fees; the books are a gift and don't have to be returned. To register your child for the Imagination Library, or to see a list of the zip codes that can access this service, click here.
Frequently Asked Questions
When can I enroll my child?
Children can be enrolled from their birth until their 5th birthday.
When will I receive the first book?
Your first book will take between 8-10 weeks to arrive.
What if I move?
Notify United Way if your address changes because books will not be forwarded.
What kinds of books might I receive?
The Imagination Library provides a few highlights of its next season here.
Program Milestones
The Imagination Library has gifted over 178 million books to children throughout the United States, Canada, the U.K., Australia, and the Republic of Ireland. Additionally, the Imagination Library recently was announced as the 2022 Carle Honors Angel Honoree by the Eric Carle Museum of Picture Book Art.
HoW to Support the imagination Library
Donate
In partnership with the Dollywood Foundation, United Way of Central Minnesota is proud to offer this amazing program to over 5,000 families throughout central Minnesota. A small $30 donation to United Way provides a local child with a book every month for an entire year. If you'd like to make a donation to this valuable program, click here.
Host a Progressive Dinner
The Imagination Library Progressive Dinner is a multi-course, themed dining experience prepared by local chefs, and hosted in a variety of homes located either in St. Cloud on April 23rd, or Sartell on April 30th. Guests will gather in a reception home for appetizers, drinks, and a short program. Then guests will travel to additional homes for the first and second courses before returning to the reception home for dessert. To purchase tickets for an upcoming dinner, call our office at 320-223-7995. To host a future progressive dinner or for any questions, call Sam Switzer at 320-229-3511 or email sswitzer@unitedwayhelps.org.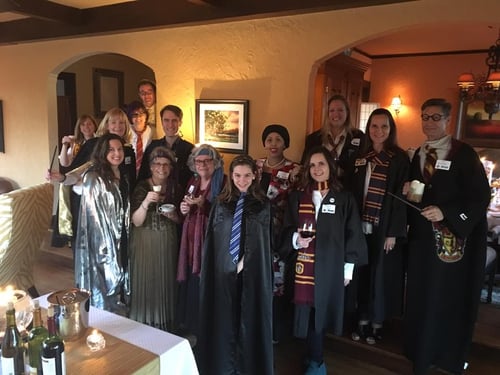 Our MISSION
Change doesn't happen alone. At United Way of Central Minnesota, we believe that our community is our strength, and that a helping hand should always be just a phone call away. If you know of someone who may need additional help with education, finance, or healthcare, our call center is always available, day or night, by dialing 2-1-1.