Outside temperatures are dropping. The holiday season is fast approaching. Inflation is skyrocketing prices across the country. What does all of this have in common? For some of us, it might not mean a thing. For many in our community, however, these are just some of the many obstacles preventing a good quality of life.
Rather than idly standing by, GiveMN orchestrated Give to the Max Day as the state's largest one-day initiative to raise money for participating nonprofit organizations and schools. This year, the event is set to take place on Thursday, November 17th, with early day giving opening up on Tuesday, November 1st.
BUILDING A BETTER MINNESOTA
Since Give to the Max Day's inception in 2009, donors across the state have donated more than $250 million to more than 10,000 nonprofits and schools. The impact has continued to grow over the past 13 years with record-breaking results. Just last year, Give to the Max Day 2021 raised $34.3 million for 6,457 organizations (more than double the amount raised in 2009!)
Even with millions of dollars coming in every year, there is still work to do. Many Central Minnesotans still struggle with unemployment, food insecurity, housing, and health challenges. And those numbers are on the rise. A study by the Minnesota Department of Public Health revealed that "About 9% of all ages (and about 11% of children under 18) are in poverty. It affects about one in eleven Minnesotans and one in nine children across the state."
UNITED WAY OF CENTRAL MINNESOTA & GIVE TO THE MAX DAY
In 2010, United Way of Central MN became one of the many organizations to receive support from Give to the Max Day. Since then, the community has donated nearly $30,000 in support of UWCM's mission to improve lives through education, income, and health.
"Advancing the common good is less about helping one person at a time and more about changing the systems to help all of us," Sam Switzer, UWCM's Director of Marketing and Communications, said. "United Way's goal is to create long-lasting change by addressing the underlying causes of problems like financial instability, lack of health, or poor education.
RAISE YOUR HAND FOR CENTRAL MINNESOTA
If you are interested in supporting United Way of Central Minnesota through Give to the Max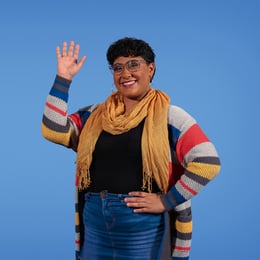 Day 2022, you can find the donation page here. Not to mention, any donation you make can help earn UWCM extra prize grants! Every gift you make on Give to the Max gives our organization an extra shot at the $100,000+ prize pool.
Don't forget! Mark your calendars for Give to the Max Day on Thursday, November 17th, 2022. And, if you can't wait until then to make a change, Early Giving opens on Thursday, November 1st.
"Living United means being a part of the change," Switzer said. "It takes everyone in the community working together to create a brighter future."