In 2019, Minnesota experienced a record number of suicide-related deaths, resulting in the loss of 730 community members. In fact, for the past 20 years, Minnesota has recorded a steadily increasing number of suicides, mirroring devastating patterns across the country.
In the hopes of ending this suicide epidemic, the 988 Suicide & Crisis Lifeline went into effect on July 16, 2022. Here are five answered questions about this new nationwide hotline.
1. WHAT IS THE 988 LIFELINE?
The 988 Suicide & Crisis Lifeline is the new country-wide three-digit dialing code that routes callers to the National Suicide Prevention Lifeline. From there, trained crisis counselors can help people experiencing suicidal thoughts, substance abuse, mental health crisis, or any other kind of emotional distress.
2. WHO CAN CALL THE 988 LIFELINE?
Anyone living in the United States can contact the hotline free of charge. In addition, people can dial 988 if they are worried about a loved one receiving services and support.
When discussing 988, it is important to the National Alliance on Mental Illness (NAMI) that the hotline is not only referred to as a "Suicide Lifeline," but instead a "Suicide & Crisis Lifeline." This is because 988 offers so much more than just suicide-related support. A caller can receive help for all mental health crises, including substance abuse, anxiety, depression, and other kinds of emotional distress.
3. WHAT HAPPENS WHEN YOU CALL THE 988 LIFELINE?
When a person calls 988, they will be greeted by a message that provides the option to connect to the Veterans Crisis Line, access help in Spanish, or remain on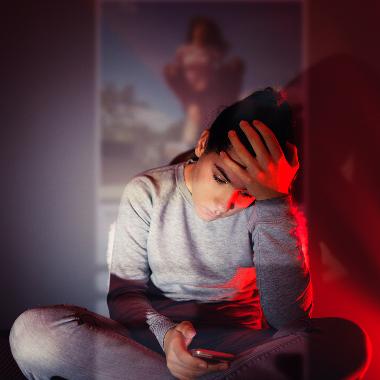 the line while the call is routed to a local network crisis center. From there, a trained counselor will listen, provide support, and share resources if needed.
It is important to note that when a person calls or texts 988, they will be routed to the nearest local network crisis center to the caller's area code. For example, if you are calling from St. Cloud, but have an area code from a different city or state, it may be beneficial to provide your location. This way, if local resource referrals are necessary, the responder can connect you to those in your area.
988 DOES NOT AUTOMATICALLY CALL THE POLICE.
The main goal of 988 counselors is to provide support and connect a caller with local resources; however, a counselor may discuss dispatching local emergency services if they feel that the caller's life is in immediate danger. Fewer than 2% of incoming calls involve emergency services, and over half of those are with the caller's consent. In addition, it is estimated that more than 80% of incoming calls are resolved on the phone with trained behavioral health professionals.
4. WHO ANSWERS THE 988 LIFELINE?
The national line is created by a network of over 200 local, independent crisis centers. These centers are supported by local and state sources, as well as the Department of Health and Human Services Substance Abuse and Mental Health Services Administration (SAMHSA).
Incoming calls are answered by crisis counselors, many of whom are volunteers. Every 988 counselor is trained to de-escalate deeply emotional situations over the phone while connecting callers to more comprehensive mental health support if they are in acute crisis.
5. CAN YOU TEXT THE 988 LIFELINE?
988 offers the opportunity to connect via chat or texting to receive suicidal and emotional crisis support. When someone texts the 988 hotlines, they will immediately receive a short survey that allows the connected crisis counselor to learn more about the current situation. From there, the texter can communicate with a counselor to seek the appropriate support or resources.
Similar to when making a call, incoming text messages will be routed to a local crisis center based on the texter's area code. In this instance, it can also be beneficial to alert the counselor if you are currently residing in an area different from where your phone provider is located.
SEPTEMBER IS SUICIDE PREVENTION AWARENESS MONTH
In 1979, a support group of family members of individuals diagnosed with mental illnesses established the National Alliance on Mental Illness (NAMI). Since then, other institutions like the National Institute of Mental Health and the Substance Abuse and Mental Health Services Administration (SAMSHA) have joined NAMI in calling attention to this devastating epidemic.
Thanks to these organizations, and many others like it, suicide evolved from a taboo topic to a national priority. Today, many communities come together throughout September to advocate for a better mental health care system.
In September of 2020, for example, downtown buildings in Milwaukee lit up in purple and teal, the suicide awareness and prevention colors. These acts of advocacy and support do not go unnoticed. Shortly after that, the National Suicide Hotline Delegation Act of 2020 was enacted to raise fees in support of 988 operations. Most recently, the Biden-Harris administration increased federal suicide awareness and prevention investments from $24M to $432M.
VOLUNTEER FOR THE 988 LIFELINE

Now, more than ever, our community needs mental health support — and we have responded. Over the past year, we have come together to create a Mental Health Committee comprised of health care providers, educators, county workers, business owners, and more. This committee has already worked to fund over a dozen local mental health programs and will continue to make sure mental health remains a priority in our community and beyond.
Are you ready to answer the call to help save lives in your community? 988 centers always look for empathetic volunteers, employees, and interns to serve as crisis counselors. No specific degree or education is required to lend a helping hand!
You can also stay up–to–date on our current volunteer projects and community needs by signing up for the Volunteer United Enewsletter!