With one toll-free call, text, or online request to 211, anyone in need can get free and confidential connections to local resources and services. Keep reading to learn all about this nationwide helpline and the people it has saved.
Rebecca's 211 story
Rebecca has never been in this position before.
Even while working full-time, she cannot keep up with her family's incoming bills. Despite her best efforts, her refrigerator's contents are slowly dwindling. She is almost out of food; to make matters worse, she isn't alone.
Rebecca has a hungry 5-year-old son to feed.
She is doing all she can to work full-time, care for her child, and maintain their home, but it just isn't enough. Rebecca is running out of options and has no idea where to turn. She needs help immediately.
Rebecca remembered hearing about the United Way 211 program from her employer. At that time, she never thought she would need the services. She picks up the phone and hits those three numbers.
Immediately, Rebecca is greeted by a friendly voice offering comfort and support. Within minutes the operator connects her to a local food shelf that can help feed her family within the hour.
Although Rebecca is relieved, she knows this solution is only temporary — until the 211 operator tells her that she can also connect her with a local long-term food support program to help get Rebecca back on her feet.
Thanks to United Way and the 211 program, Rebecca knows everything will be okay.
REBECCA REPRESENTS MILLIONS
Rebecca's story is just one example of the millions of people who rely on 211 to find the services and support they need. Over the past year alone, this nationwide network handled:
Over 19.7 million phone calls

Over 1.4 million texts, web chats, and emails

More than 23 million total connections

About 211
211 was started by United Way in the late 1990s as a single, easy-to-remember number that provides access to local health and human resources. Their goal was to make it easier for people like Rebecca to find help when facing a crisis like homelessness, hunger, or lack of access to healthcare.
In the early days of 211, the service focused on connecting people to basic needs like food, shelter, and healthcare. Since then, the list of resources has drastically expanded to include services for just about anything, from financial assistance and job training to legal aid.
THE MOST COMPREHENSIVE LIST OF LOCAL RESOURCES
When you call, text, or submit a chat to 211, you will be greeted by a trained operator who can connect you with a comprehensive list of resources and services in your community. The operator will ask questions to better understand your needs and other relevant information.
From there, you will receive immediate information about the resources that might be able to assist you. The entire process is free, confidential, and available in many languages.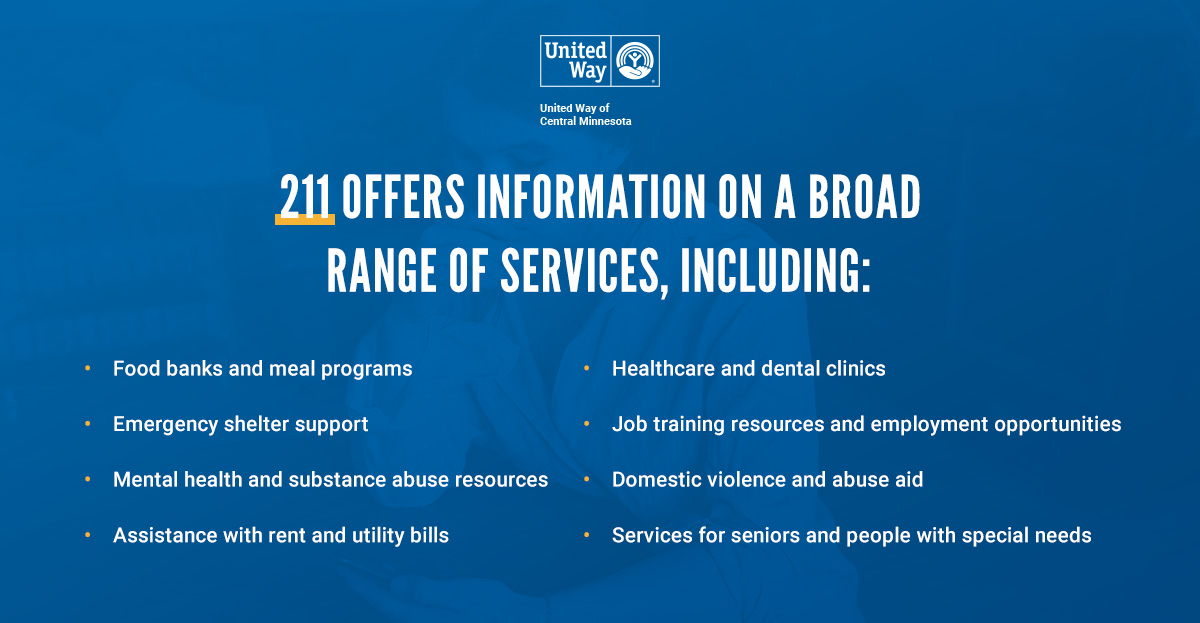 211 IN MINNESOTA
There are currently three contact centers across the state with a shared database containing more than 40,000 resources.
Unlike programs that patch people through to agencies, the caring experts on the other end of the 211 line listen, identify underlying problems, and connect Central Minnesotans with the resources and services that can provide support.
TURN TO 211 FOR HELP TODAY
Do you or someone you know need help? You don't have to struggle alone any longer. At this exact moment, highly-trained Community Resource Specialists are waiting by the phone to bring you comfort, assistance, and care.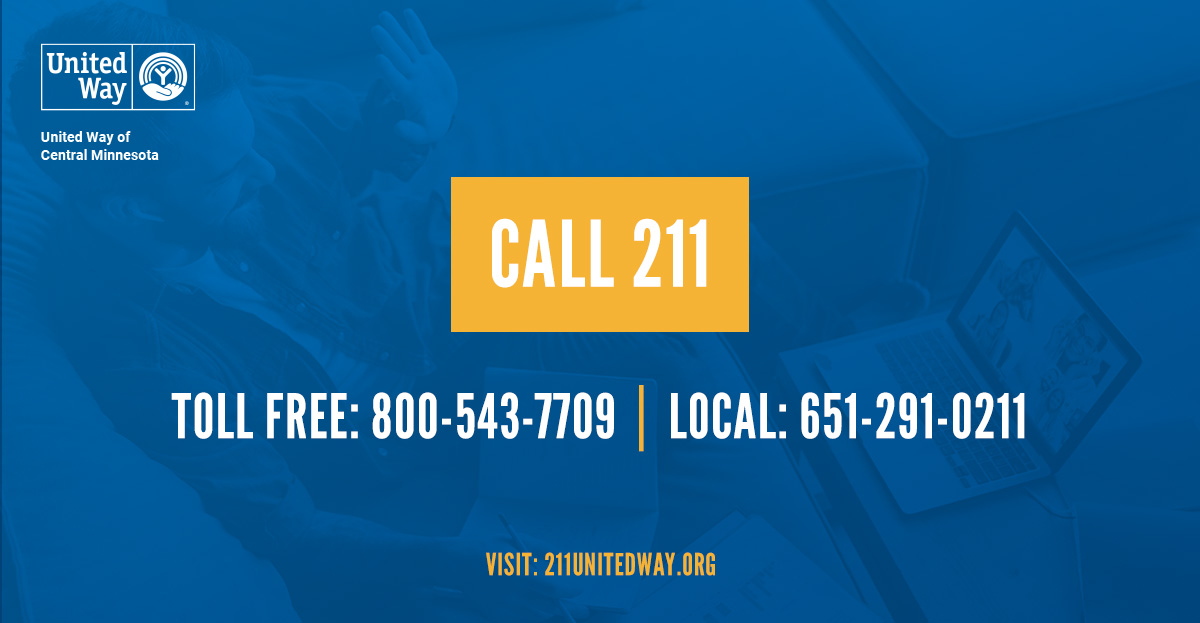 GET INVOLVED WITH 211
Over the past year, United Way of Central Minnesota positively impacted the lives of nearly 100,000 people in our community. Together we can make that number even bigger.
There are many ways to get involved with our efforts and support 211, including:
Donations

— Minnesota's call centers rely on financial contributions from individuals, businesses, and organizations. By donating, you're fueling a critical lifeline for our neighbors in need.

Volunteering

— Share your time and talents directly with 211 by volunteering. From answering calls to assisting with administrative tasks, we always update our volunteer opportunities.
Advocacy

— Advocating for 211 is one of the most crucial things you can do to ensure services are available to those who need them most. Stay up-to-date on all of the advocacy campaigns and events organized by our local team.