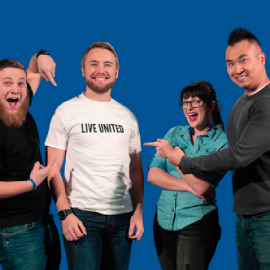 October 21, 2021 | 5:30 PM – 7:30 PM
Like-minded individuals with like-minded interests and goals — you're going to like the Young Leaders United(YLU) Group in Central MN.
Join us for a YLU Open House on October 21 from 5:30-7:30 to learn more about how you can do good while having fun doing it!
Join us for a beer tasting, giveaways, and socializing while learning more about how you can get involved with YLU and United Way's impact in the community. Tour the Volunteer Action Center, hear the story behind Keshia's Community Closet, and get inspired by United Way's work with financial stability.
Bring an item on Keshia's Community Closet's list of needs and bring a friend to be entered into a drawing at the end of the night!
Thank you to our 2021-2022 YLU Sponsor: