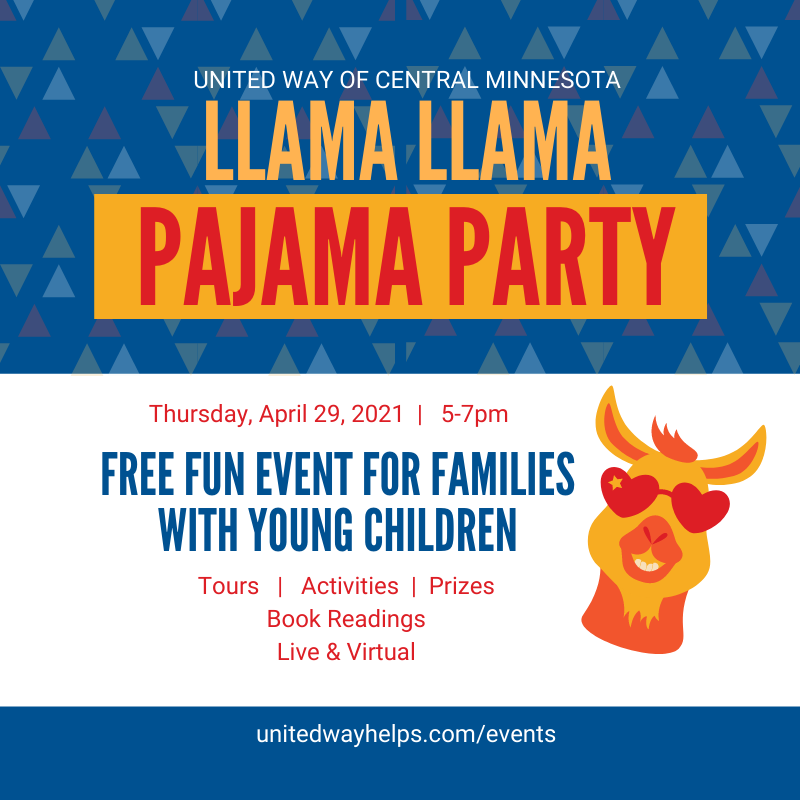 April 29, 2021 | 5:00 PM – 7:00 PM
Join us for our 2021 Llama Llama Pajama Party!
Inspired by the popular Imagination Library book, Llama Llama Red Pajama
this free, family event will feature fun activities, readings from local celebrities and more!
This year we will celebrate Llama Llama with a week-long celebration! Throughout the week follow our Facebook page for fun projects like puzzles and coloring contests. You'll also be able to follow our Llama Llama mascot making his rounds around St. Cloud in his very own red pajamas!
On Thursday, April 29th join us in downtown St. Cloud from 5-7pm. Starting at the St. Cloud Library stop by the United Way table to pick up a scavenger hunt that will have you hunting down llamas as you walk to the St. Cloud Police Department and our United Way office. At each location you'll be met by the Police and Fire Department for live book readings! Return your scavenger hunt to our table at the library to be entered to win awesome prizes like books, coloring books, and bikes!
If you would like to enjoy the event from home, starting at 5pm we will have a variety of live videos including live llamas, book readings, tours of the Fire Department and more! Make sure to follow our Facebook page above to follow along!
** The entire walking loop will be just under 1 mile. Strollers, wagons, and bikes are recommended for little ones. You will also be outside the entire duration of the event so dress accordingly.