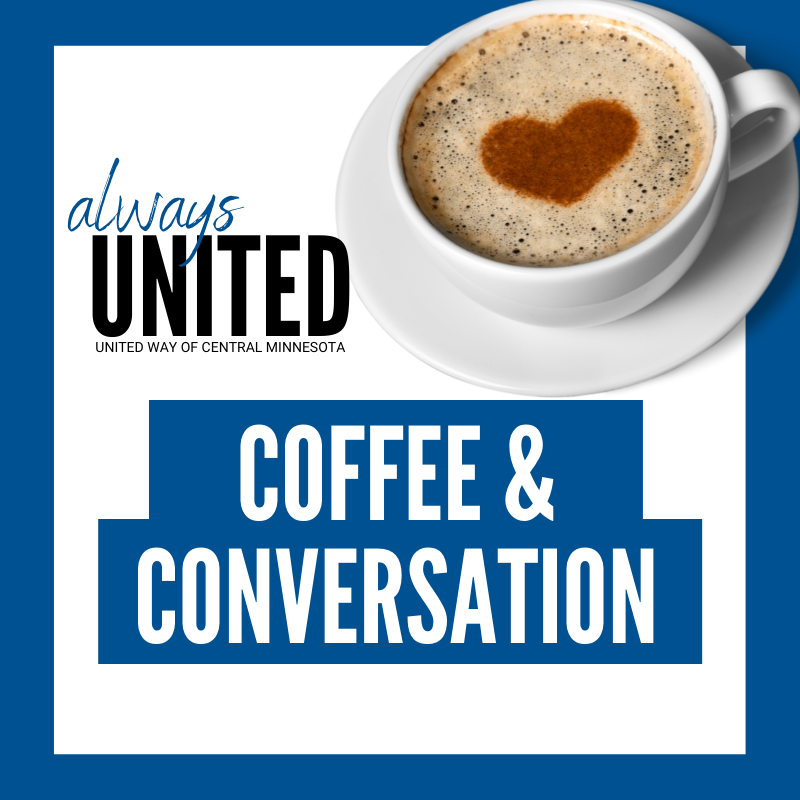 January 20, 2022 | 9:00 AM – 10:00 AM
Always United is an ideal way to connect with others, learn new skills, volunteer, and support the need in our community.
Join us for Coffee & Conversation where you'll have the opportunity to connect with others over a cup of coffee and a hot topic.
These sessions will be most appropriate for those ages 55 and above.
No need to register, free to attend. Coffee and snacks included.
Sartell Community Center
850 19th Street South, Sartell, MN 56377
9:00am - 10:00am
SCHEDULE OF SESSIONS
January 20 - Introduction to Always United and the (3) Focus Areas of Need in our Community: Health, Education, & Financial Stability
February 17 - Protecting Yourself Online Cyber Security
March 17 - Planned Giving
April 21 - Driving Safety and When It's Time to Give Up the Keys
May 19 - Keeping the Assets in the Family! (Estate Planning, Trusts and Wills)
June 16 - Life After Retirement!
July 21 - Social Security: Understanding Your Benefits
August 18 - Home Security System and What You Need to Know
September 15 - Protecting Yourself from Fraud and Identity Theft
October 20 - Aging Parents and Worried Kids!
November 17 - CentraCare Health: Medication Cards, Drug Interactions and Vaccinations
December 15 - Peace in the Family Before and After Life
Questions?
Sheri Lochner
Director of Major Gifts and Planned Giving
320.229.3501
SLochner@unitedwayhelps.org