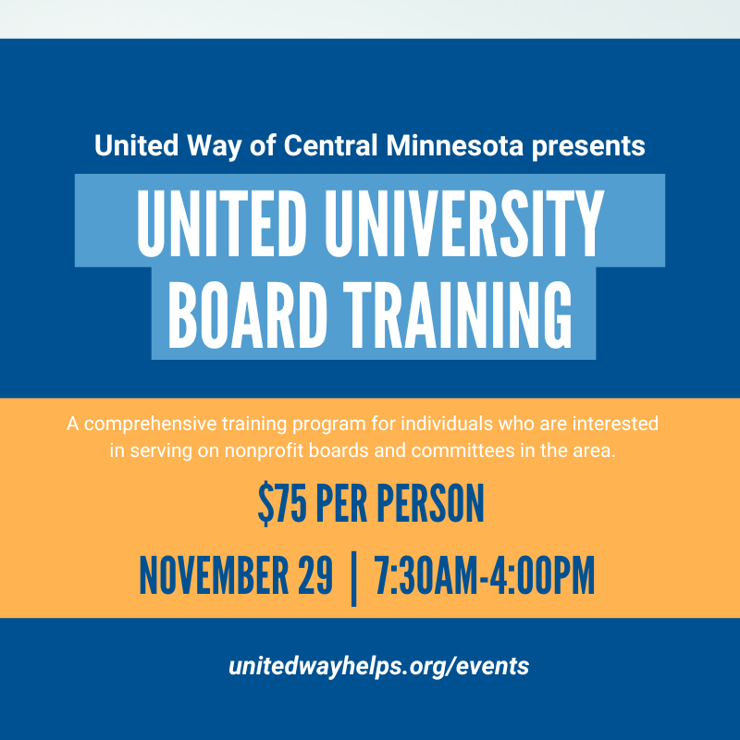 November 29, 2022 | 7:30 AM – 4:00 PM
SOLD OUT!
United University ~ Board Training!
November 29, 2022 ~ 7:30am-4:00pm at United Way of Central Minnesota
Board Training is a comprehensive training program for individuals who are interested in serving on nonprofit boards and committees in the area.
Program Benefits Include
Cultivate essential board service skills

Strengthen your local network

Gain an understanding of nonprofit work

Network and connect with local leaders



Local leaders will facilitate each session. Lunch and a certificate of completion will be provided.
Agenda
7:30-8:00am Registration
8:00-9:30am "How do I fit Board Service into my life?", "How to find the right Board opportunity?", "How do I get started?"
9:30-10:00 Morning Break
10:00-11:30 "For-Profit vs. Nonprofit World" , "Board Responsibilities and Financial Stewardship"
11:30am–12:30pm Lunch
12:30-2:00pm "Nonprofit Board Legal Issues", "Robert Rules of Order"
2:00-2:30 Afternoon Break
2:30-4:00 pm Board Engagement Overview/Panel
Program fee is $75.00 and is non-refundable. Space is limited.
Optional Resource: The Business Professional's Guide to Nonprofit Board Service - $45.00
SOLD OUT
Questions about Registration? Contact Jill at Jlenzmeier@unitedwayhelps.org or 320-252-0227
Questions about the event? Contact Mary Krippner at 320-223-7991 or Mkrippner@unitedwayhelps.org