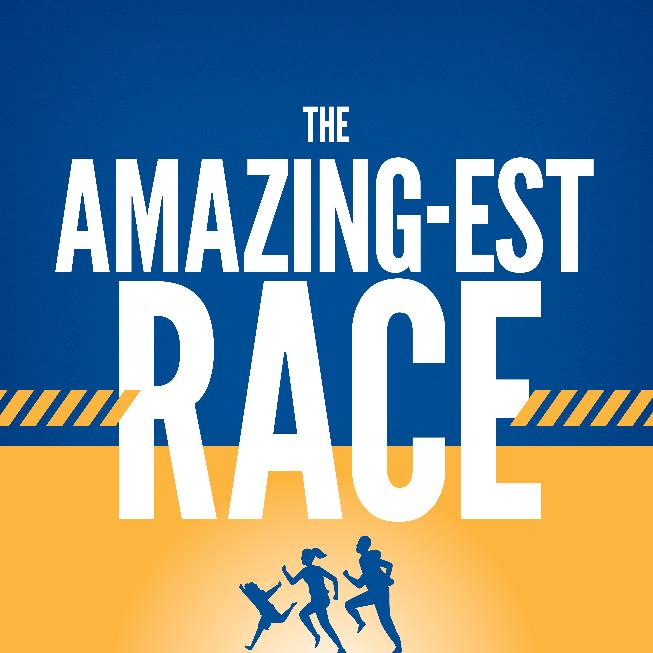 August 27, 2022 | 9:30 AM – 2:00 PM
United Way of Central Minnesota's
The Amazing-est Race
Presented by: GeoComm
Saturday, August 27, 2022

9:30am - Team Check-in
10:00am - Race Begins at Lake George

St. Cloud Area
If you're a fan of the television show you're going to love UNITED WAY'S AMAZING-EST RACE!
Get ready to search, run, jump, dance, skip, sing, eat, draw, and have an AMAZING day
all while supporting mental health in Central Minnesota!!
Registration is OPEN!
WHAT?
Amazing-est Race will start at beautiful Lake George before taking teams throughout downtown St. Cloud as they try to solve clues and complete challenges.
Challenges will include a variety of tasks, such as: finding hidden items, solving clues to specific locations, and difficult challenges along the way.
You will use your creativity, knowledge of St. Cloud, and of course your feet to race your way to first place!
HOW?
The race will be completed on foot. No use of cars, bikes, skateboards, horses, or hovercraft is allowed.
While you don't need to be an elite athlete, you should be prepared to cover several miles throughout the event.
PRIZES!
Top finishing teams will be awarded cash prizes!
(ok, not technically cash, it will be in the form of a check, but that's just for our accounting department!)
Your team will need to earn the most points by completing challenges, AND cross the finish line before your competitors to take home the prizes!
WHERE?
This year the race will begin and end at Eastman Park/Lake George. When the race begins each team will receive clues to get them to the challenge locations. This could take you anywhere in the downtown area!
ENTRY FEE
Adults (12+) - $30
Children (under 12)* - $15
*There is no age requirement to participate in the race, but many of the challenges may be difficult for those under the age of 10. If you are a competitive group going for the win, we recommend leaving the little ones at home. However, if you are just in it to have a fun day you should be just fine.
NEED A HEADSTART?
Teams will have the ability to fundraise to earn a head start in the race! After your team registers, you will receive a link to your very own team fundraising site. You can share this link out to family and friends to help you earn a special bonus!
Teams will receive a head start based on the amount of money they raise to support United Way's mental health initiative. This means you will start your challenges 1, 2, or 3 minutes earlier than the other teams! And these minutes matter. Along your race you may have to wait in lines if other teams are trying to complete a challenge. Make sure you're first by getting a head start!
NEW TO 2022: This year there will NOT be an opening challenge so if your team qualifies for a bonus start, you are off and running to your first challenge before anyone else!
Bonus levels:
$500 Raised = 3 minute head start
$350 Raised = 2 minute head start
$200 Raised = 1 minute head start
This is a bonus you can feel good about! All funds raised will go towards supporting United Way of Central Minnesota's mental health initiative!
FAQ
Can families participate?

Yes! We heard how much fun you had participating as a family so we are continuing the race as teams of 2-4. While we haven't put an age requirement on the event, some challenges may be too difficult for those under the age of 10. If you are a competitive group going for the win, we recommend leaving the little ones with a sitter. However, if you are just in it to have a fun day you should be just fine. Please reach out to us with specific questions.

Do I need to be a runner?

Nope! Although you should expect to cover several miles throughout the event, it's also about strategy, problem-solving, and skill!

May I use a scooter or other form of wheels?

No! This year will all be on foot. We will have judges out in the area, if you are caught using any type of transportation you will be disqualified.

Do I have to use my cell phone?

Only one person will be required to take photos of your challenges. Make sure you have at least one cell phone, with a working camera charged and ready to go.

Do we have to fundraise? No, once you've paid your registration fee you are all set. But all funds raised will support our mental health initiative. So not only will you have fun, you'll be helping your community at the same time! (Plus, you'll get a head start that might just be the difference you need!)

What if it rains?

That will make for better pictures! Grab your raincoat, boots, winter jacket, or sunscreen. This is Minnesota, who knows what will happen! The race will happen despite the weather!

What about refunds?

Sorry, we will not be issuing refunds if you cannot participate in the event, but if you need to swap out a team member please contact us.
Questions? Contact Sam Switzer sswitzer@unitedwayhelps.org or 320-229-3511